18-05-2018
Pride Party Weekend: Opening Party at Fuse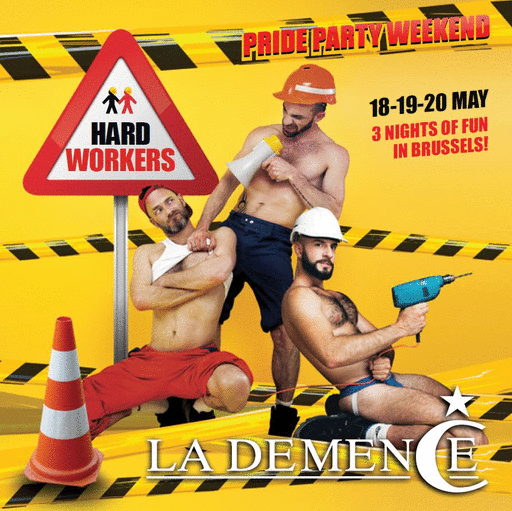 3 party nights in Brussels!

Friday 18 May : Opening Party at Fuse club (22h – end)
Saturday 19 May : Main Party at Palais 12 (21h – 8h)
Sunday 20 May : Closing Party at Fuse Club (22h – end)



Djs
Pagano (UK)
Steven Redant (ES)
Chris Bekker (DE)
Phil Romano (IT)
Sebastien Triumph (FR)
John Dixon (FR)
Paul Heron (UK)
Ben Manson (FR)
Dikky Vendetta (NL)
Elias (ES)
Andrei Stan (RO)
Kenne Perry (BE)
Bernard Gavilan (BE)
Jo (BE)
Breizbear (BE)

VJ AlexEtJeremy (NL)

Shows by Jean-Marie Desreux (FR)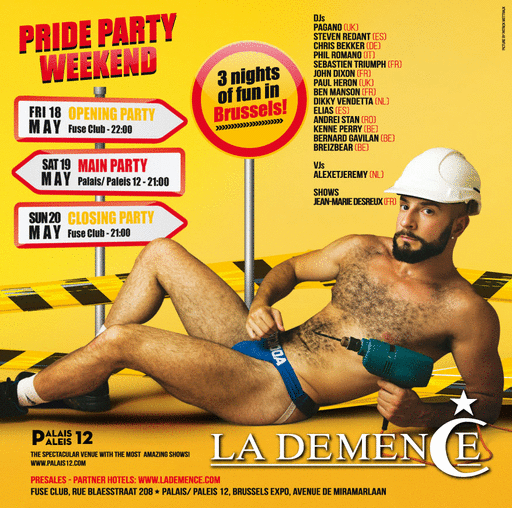 PRESALES
Saturday € 50 (Main Party at Palais 12)
Friday + Saturday € 70
Saturday + Sunday € 70
Friday + Saturday + Sunday € 90
Discounts for younger than 26 years

No single tickets for Fuse club:
Fuse has a limited capacity, and priority is given to persons who want to combine Fuse club with the Main Party at Palais 12 on Saturday.

DARKROOMS
There will be darkrooms, free condoms and lube at all parties
600 m2 playground at Main Party
Have fun, play safe !


Wanneer: 18-05-2018
Tijd: 22:00 - uur
Leeftijd: 18 jaar
Website: http://www.lademence.com/?post_type=events&p=52061
Toegangsprijs: € ?
(Deur verkoop en voorverkoop zijn vaak verschillend, bedragen kunnen afwijken!)


Wie gaan hier naartoe (0):
De 3 volgers van Fuse:
Login om de volgers van deze gop te zien
OOOooops de verbinding is niet beveiligd!!! Gebruik https voor een veilige verbinding

KLIK VOOR EEN VEILIGE VERBINDING
LOGIN als je een reactie wilt plaatsen
5-5-2011 16:46 - Nice party, see you ?