7-07-2018
Superball 2018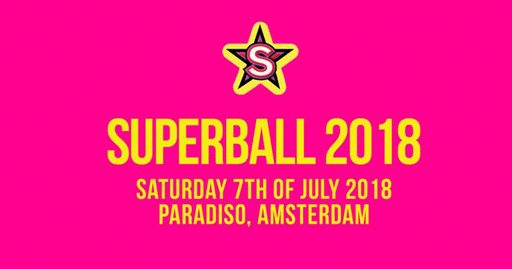 Let's plan a date all together; Saturday 7th of July 2018, it's time for the 4th edition of Superball!! Don't miss all the beautiful, talented and creative creatures who will be shining on stage this night, so much entertainment + afterparty!

INFORMATION
Just to explain Superball a bit more, there are ten different (inter)national drag houses who all will battle in three different categories to win the award of 'House of Superball 2017'.
1st category: INTRODUCTION + LIPSYNC
Every house will introduce themselves with a video of all the members and afterwards they will perform a lip-sync.
2nd category: DANCE-OFF
Every house prepared a dance, that can be in every music style and free to do whatever they like.
3rd category: CATWALK
Every member of the house will join the finale to walk the Catwalk.

HOUSES
The houses that will participate at Superball 2018?
You have to subscribe to be part of Superball 2018, more info will follow soon…

TICKETS
Open: 20.00 – 05.00 hr
Tickets (includes the afterparty)
SuperEarly Ticket: €15,-
Early Ticket: €18,-
Regular Tickets: €22,50 euro
Ticketsale starts Thursday 12th of October 2017 at 10AM via http://www.paradiso.nl
/>
AFTERPARTY
Open: 00.00-05.00 hr
Entrance: 12,50 euro
Ticketsale not started yet, more info soon.

ORGANIZATION
Concept by Jennifer Hopelezz.
Organisation: Franz Zehenpfenning, Lorenzo Borella, Maayan Ben Gal & Peter van Vught. Contact via: http://www.superball-amsterdam.com http://–www.instagram.com/superballamsterdam


Wanneer: 7-07-2018
Tijd: 20:00 - 05:00 uur
Leeftijd: 18 jaar
Website: https://www.facebook.com/events/288121011702456
Toegangsprijs: € 22,50
(Deur verkoop en voorverkoop zijn vaak verschillend, bedragen kunnen afwijken!)


Wie gaan hier naartoe (0):
De 1 volgers van Paradiso:
Login om de volgers van deze gop te zien
OOOooops de verbinding is niet beveiligd!!! Gebruik https voor een veilige verbinding

KLIK VOOR EEN VEILIGE VERBINDING
LOGIN als je een reactie wilt plaatsen
25-10-2014 14:37 - Club Rapido, 4 dance parties a year. Celebrating 10 years on November 30 2014. The best Gay dance party of the Netherlands. www clubrapido com. Safe sex zone.