7-04-2018
Wasteland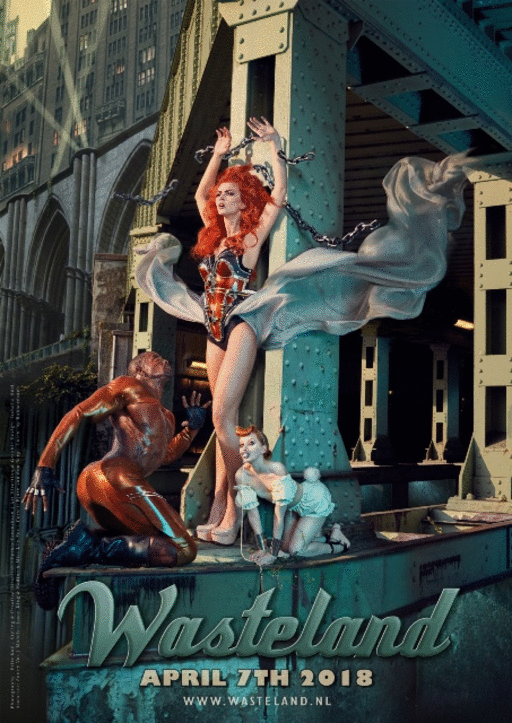 If you dare to be different… If you are without prejudice… If you love living on the edge… If exploring your wildest fantasies makes you tick …. Wasteland! Visitors from all over the globe will gather for a spectacular night filled with entertainment. Get ready for the Gotham edition!

DJs.
Benny Rodrigues, Lucien Foort, Funkerman, Grant Nelson (UK), Brian S, Clark Kent (DE), C-jay, Sidney Still, Killian Sawn, Ben Manson (FR) and many more …

Visuals
Kabinet Azar, Run Paint Run and more …

Shows.
Opening Show by Dennis Diem, The Villbergs(SE), Go-Go Fuckers, Twice Shy Peep show (UK), Femke Fatale (BE), Cheddar Georgeous (UK), Out of Thin Air, Viper Squat, Ropemarks, Olifanttakeover, Carmen Mon Oxide (UK), Shelly d' Inferno (UK), and many many more …

Strict Dresscode.
Leather, Metal, Plastic, Latex, Fetish Glamour, Body Art, Fetish Animal, Fetish-Burlesque, Cross-Dress, Medical, Fetish Goth, Fetish Steampunk, Baroque, Uniforms. (Casual Street wear & combat army uniforms are NOT allowed). The decision of the Bitch is final!



Wanneer: 7-04-2018
Tijd: 22:00 - 06:00 uur
Leeftijd: 21 tot 99 jaar
Website: www.wasteland.nl
Toegangsprijs: € 52,50
(Deur verkoop en voorverkoop zijn vaak verschillend, bedragen kunnen afwijken!)


Wie gaan hier naartoe (0):