8-09-2018
Mankracht 2018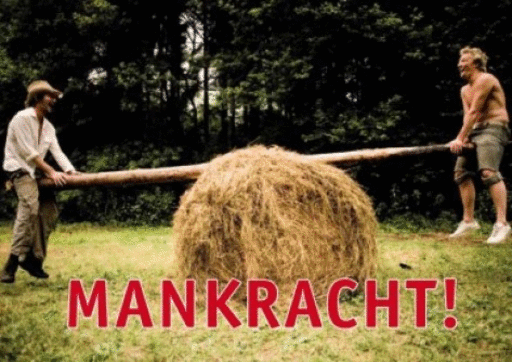 Dit jaar reizen we alweer voor de tiende keer af naar het Drentse Orvelte, voor ons jaarlijkse weekend weg met poz mannen. Een weekend vol gezelligheid en activiteiten, en dé gelegenheid om met andere homomannen met hiv even helemaal onder elkaar te zijn. Ga jij van 7 tot 9 september met ons mee?

De gedachte achter Mankracht is even simpel als doeltreffend: mannen met hiv bij elkaar brengen in een laagdrempelige, ontspannen en open sfeer, waarin iedereen helemaal zichzelf kan zijn. Met een divers programma bieden we de ruimte elkaar goed te leren kennen. Samen eten, praten, borrelen, lachen – in de nazomeravonden is het goed toeven op het door de oude boerderijen beschutte terras. En heb je even geen zin om aan een activiteit mee te doen? Voel je dan vrij om je eigen ruimte te nemen, alleen of samen met andere mannen die je hebt ontmoet – niets is verplicht.

We ontvangen je vrijdag aan het eind van de middag en starten de avond meteen goed met een gezellige barbecue. 's Avonds hebben we een introductieprogramma met de hele groep, en aansluitend is de bar geopend. Zaterdag staat de ochtend in het teken van gespreksgroepen waar we wat meer de diepte in kunnen gaan, terwijl we 's middags in beweging komen. Na het avondeten is dan tijd voor licht vermaak, en kan er tot laat geborreld worden aan de bar of onder de sterren. Zondagochtend kan er creatief of sportief gedaan worden. Na een stevige lunch nemen we in de middag weer afscheid, een hoop ervaringen rijker!
Praktische informatie

Voor deelname betaal je een bijdrage van €139. Leden van de Hiv vereniging krijgen €50 korting en betalen slechts €89. Hiervoor krijg je een compleet weekend inclusief 2 overnachtingen, verzorgde maaltijden, onbeperkt koffie en thee, een aantal gratis (al dan niet alcoholische) consumpties en deelname aan alle activiteiten. Zijn de kosten een belemmering voor deelname? Neem dan contact met ons op via info@pozandproud.nl, dan zoeken we samen naar een oplossing. Aanmelden voor het weekend kan door een mail te sturen naar servicepunt@hivnet.org onder vermelding van 'Mankracht 2018'. Meld in je mail: je naam, adres, telefoonnummer, geboortedatum, of je lid bent van de HVN en of je al een keer eerder bent mee geweest.

Er zijn 26 plaatsen beschikbaar, dus wacht niet te lang met aanmelden als je mee wil. In mei laten we je weten of je op de deelnemerslijst staat (nieuwkomers hebben voorrang). Hierna ontvang je ook meer informatie over het weekend en over de betaling.

Heb je nog vragen? Neem dan contact met ons op via info@pozandproud.nl.


Wanneer: 8-09-2018 + 7-09-2018 + 9-09-2018
Website: https://www.pozandproud.nl/2018/04/vooraankondiging-mankracht-2018/


Wie gaan hier naartoe (0):