Terugkerende agendapunten
Weergave opties:
.
BLOK
LIJST
Laat zien:
Titel
Titel Tekst
Titel Tekst Foto's
Er zijn op dit moment geen operators voor onze agenda.
Iets voor jou? Vraag om informatie!
webmaster@digigop.nl
9-06-2018
Delicious Candy Edition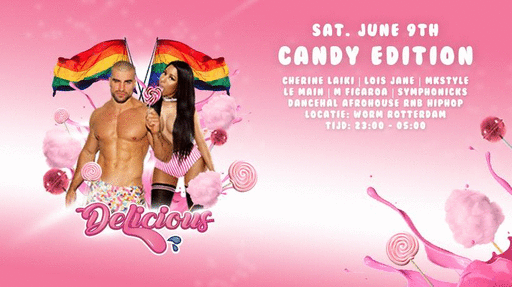 DANCEHALL, AFROHOUSE, RNB & HIPHOP LOVERS OPGELET! We're back, bigger and better! Kom naar het leukste LGBT+ feestje in Rotterdam!
Party and meet Delicious people 👅

🍬 First 100 people free candy shots at the door
🍬 Free candy
🍬 Candyboys and candygirls


Wanneer: 9-06-2018
Tijd: 23:00 - 05:00 uur
Website: https://www.facebook.com/events/395023530966748/
Toegangsprijs: € 8,00
(Deur verkoop en voorverkoop zijn vaak verschillend, bedragen kunnen afwijken!)


Wie gaan hier naartoe (0):
WORM
This is WORM's Manifesto for an Avantgardistic State; a physical and mental state of being where we offer alternatives and hangouts that offer a workable alternative to dominant cultural movements. From here we clearly state, and distribute our mission, artistic practice, and legacy. WORM's Avantgardistic State is found in a building in the Boomgaardsstraat, a side street of the Witte de Withstraat in the centre of Rotterdam.