2-06-2018
BN Bingham Cup Welcome party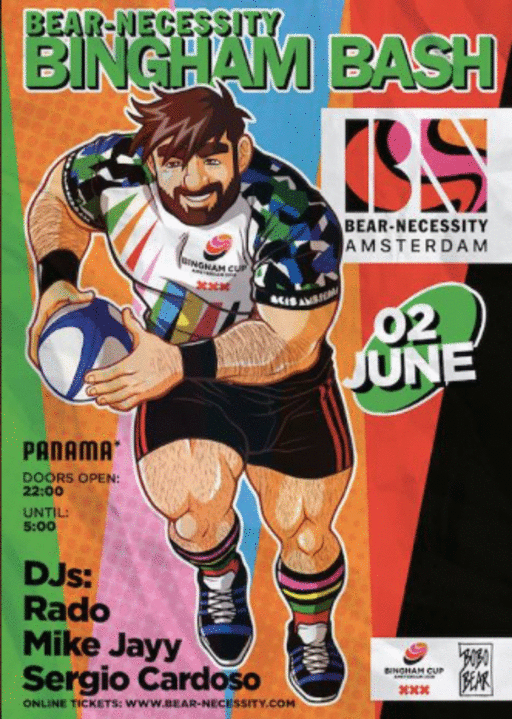 BINGHAM BASH-ONE NIGHT- ONE AMAZING PARTY- SEXY INTERNATIONAL GAY RUGBY PLAYERS-

Need we say more?! Join us on 2nd June when Bear-Necessity, proud sponsor of the Bingham-Cup, hold the official Bingham Cup welcome party at Panama Club. Our favorite DJs Sergio Cardoso , Mike Jayy and Rado will be on the decks spinning the best tech-house music to keep you dancing all night long surrounded by the hottest ruggers from around the globe.

The club will be bursting with sexy men and this is THE ONLY PARTY you'll want to attend this weekend! So mark your calendars and get your tickets fast as this is sure to be a sold out event.
Early bear tickets go on sale 24 March @ for (€15) followed by the pre-sale ticket of (€20) door (€25).


Wanneer: 2-06-2018
Tijd: 22:00 - 05:00 uur
Leeftijd: 18 jaar
Website: http://bear-necessity.eu/project/bingham-bash-rugbn-wk/
Toegangsprijs: € 25,00
(Deur verkoop en voorverkoop zijn vaak verschillend, bedragen kunnen afwijken!)


Wie gaan hier naartoe (0):
De 0 volgers van Panama:
Login om de volgers van deze gop te zien
OOOooops de verbinding is niet beveiligd!!! Gebruik https voor een veilige verbinding

KLIK VOOR EEN VEILIGE VERBINDING
LOGIN als je een reactie wilt plaatsen